Although mixing and matching different styles and outfits can get you new ideas for your next look, if you don't have that big of a wardrobe to flex, it can get quite difficult trying to pull out something original from your closet. What's worse, if you don't have the extra cash on you right now, adding different fabrics and accessories to your collection isn't much of an option because fashion should make you feel happy and not put you in any credit trouble.
Luckily enough, just because money is an issue and you have nothing brand-new to style with doesn't mean you are out of options. And for those willing to get a bit more creative and craftsy, then we strongly recommend putting on your thinking goggles because customization and personalization are the best ways to make old outfits feel and look brand-new. Plus, if you can practice some resourcefulness, you can achieve the same aesthetic value at a margin of the price for new clothes.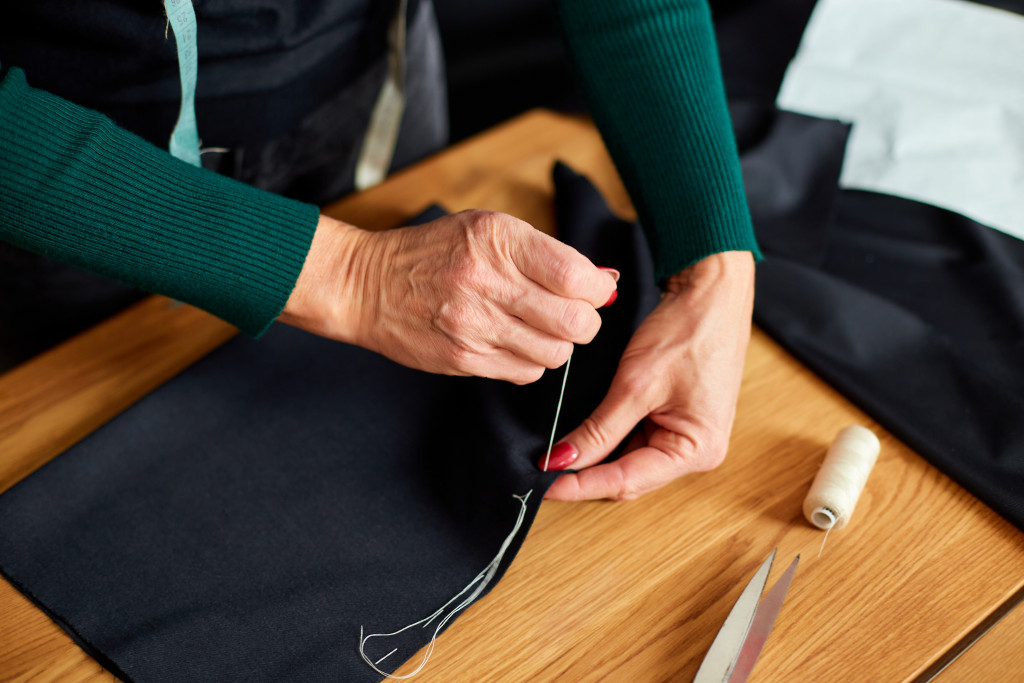 #1 Add Extra Features to Make It Stand Out
Ornamentation and embellishments are the most accessible ways of adding extra features to your wardrobe of tops and layering options to give it a new aesthetic, and apart from the design freedom of adding whatever you want, you'll have plenty of online stores to look through. What we would recommend are your basics and essentials, such as (1) experimenting with patches on your jeans and jackets and (2) embroidery to make clothes look more elegant.
Experimenting with Patches on Jeans And Jackets:
While the Paris Fall Streetstyle Runways will make you think that looking extra glamorous when going out requires designer brands to make fashion statements, you can do so much more with a bit of imagination. Of course, you won't be snipping and sewing that next greatest masterpiece of all time, but original patches can make a clothing piece appear more authentic and even vintage, depending on the logos you use.
Practice Your Embroidery and Sewing Skills:
Suppose you're looking for a bit more of a challenge and don't mind learning a brand-new skill to complement your design ideas. In that case, practicing your embroidery on older outfits is an excellent way of breathing new life into your wardrobe. There's no denying that it will take quite some time before you get the hang of things, but you'll be surprised at what you can accomplish with a bit of dedication.
#2 Transform Normal Tees into Graphic T-shirts
Besides adding extra features to your clothes, transforming normal tees into graphic t-shirts is fun. It has the upside of "messy" actually being a good thing because it adds personality. And while printing and pressing personal patterns will require some technical knowledge, it's not impossible to pick up if you can back up your talk with actions. Plus, even if it fails, you can still save mock designs with tie-dye.
Glitter, Ombre, and Colorful Patterns:
Some people consider glitter, ombre, and more imaginative color patterns the most difficult to achieve by yourself. But with many affordable iron-on HTV vinyl sheets, you can do anything in the comfort of your home. Sure, a couple of hiccups here and there are expected, but you will be pressing onto jackets, onesies, and maybe even backpacks in no time. Just try your best not to burn yourself because the heat can be too much for your hands after long hours.
Freestyle with Some Fabric Paint:
If you're not the type to enjoy patterns and ready-made designs, maybe freestyling with some fabric paint is more up your alley because there's no holding back when it's just you, the paintbrush, and a plain shirt. Some like matching this method with the help of a stencil to make curves and edges look more fluid, but you're more than free to go freehand and dabble with whatever comes to mind as well.
#3 A Complete Reimagination from Scratch
While working on existing clothes and outfits is great, if you want those creative juices flowing, then nothing beats a complete reimagination of your clothes from scratch and creating something entirely new. Often, using existing clothing as a baseline can limit your design freedom, so cutting out the fabric and following your sketches can transform your current styles. Plus, even if it doesn't turn out fine on the first try, you can always redo it.
The Basics of Dressmaking and Design:
Let it be known that you won't be making the next swimwear trends for 2022 at home, but you can learn the basics of dressmaking and design to get into the swing of things. A-line skirts and classic shift dresses are some of the easiest and most forgiving design patterns to try for beginners, and it doesn't take a lot of fabric to complete, which means you'll have plenty to spare for modifications.
Embrace Your Creative Expression with Clothes
Clothes aren't just pieces of fabric you wear to keep you warm; they are tools for self-expression and ways of showing your true colors. And if you feel your wardrobe is looking a bit outdated, feel free to try some customization tips and tricks mentioned above.