In 2022, a few years into the pandemic, some aspects of daily life began returning to normalcy. More people felt safe venturing out and gathering in larger groups again. But for many others, their homes continued to be where they spent most of their time.
After a year of reflection, people have realized that homes should be both practical and comfortable—a space to nourish both mind and spirit. Below were the driving factors behind many people's decorating decisions in 2021 and 2022 will continue to driving design trends in 2023, according to experts.
1. Green is the New Black
If you're looking to update your home's decor, green may be the way to go. That's because several leading paint companies have named shades of green as their top color trend for 2022. So if you want to stay ahead of the trends, consider giving your walls a fresh coat of green paint in the coming year, which is becoming more popular than blue.
The color green has always been linked with nature, and after the recent pandemic, we're longing for that connection now more than ever. Though we've had to take many outdoor activities indoors, incorporating natural elements into our indoor spaces is one way to stay connected to the great outdoors.
2. Warm Neutrals
Some designers say that warmer color palettes including shades of cream, beige, nude, taupe, camel, and rust will make a comeback in homes, as people look for more comforting and inviting atmospheres. These colors have been around for a long time, but preferences are now changing to include these earthier tones.
Blush will apparently be a go-to color for next year, in addition to the more standard tones. To create a warm atmosphere and establish a cheerful mood, integrate tan or taupe with variations of soft pink undertones, as explained by an expert.
3. Curvature and Curved Patterns
We're seeing a shift in furniture, patterns, and architecture away from the popular sharp angles and straight geometry of years past to smoother curves and wavier curls. Curves were called out specifically in Pinterest's trend prediction report for 2022; they noted significant surges in search interest for curved walls and living room couches over just the past year.
Nowadays, you can see gentle lines, arcs, and curves in furniture collections from many different retailers. This trend reflects our current desire to feel comforted by softness during these stressful times. Curves and rounded forms remind us of being embraced, which feels safer than sharp angles and straight lines. Given that we're still recovering from the global health crisis and economic strain, people want their everyday environment (furniture, lighting, fabrics) to make them feel good. It's unclear whether the resurgence of 70s and 80s styles in popular media caused people to start decorating in their styles or vice versa. It would be like trying to answer which one between the chicken and the egg came first.
4. Blending Classic and Contemporary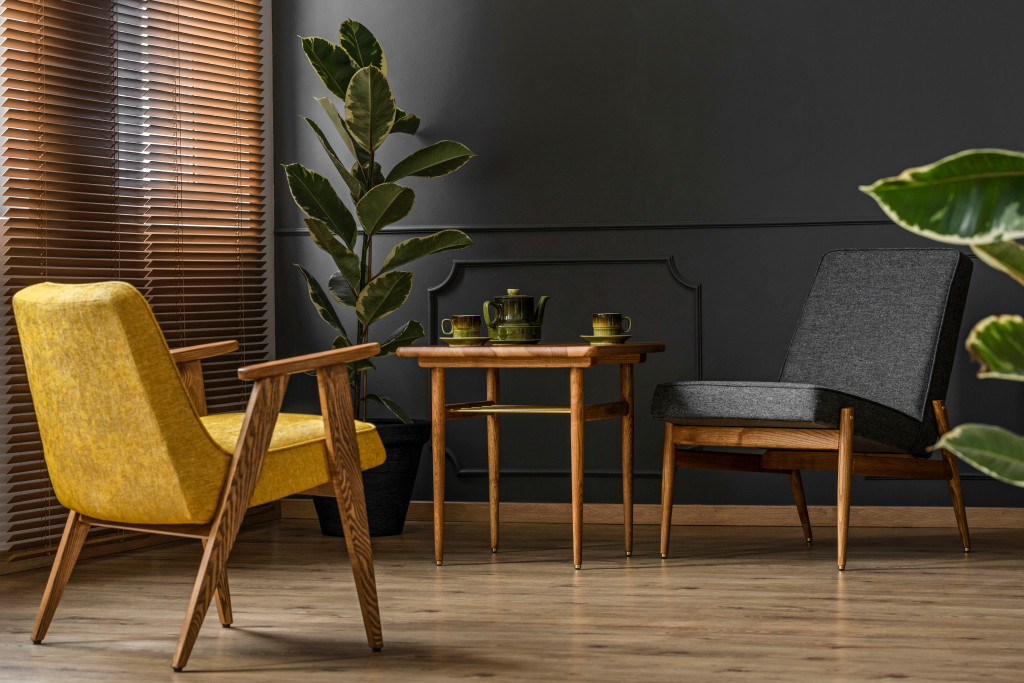 Increasingly, people are combining modern furnishings with antiques and vintage pieces. Not only is this environmentally friendly because you're repurposing items, but it also creates a contrast between old and new in a space. This also opens up a home to cozier pieces and furnishings—family photographs and portraits are more welcome in rooms with vintage pieces, especially because they evoke a feeling of familiarity, warmth, and nostalgia.
As backorders from supply-chain disruptions continue to grow, people are turning to vintage shopping now more than ever before. In fact, last year Americans spent over $17 billion on secondhand furniture and other household items (according to a report from Mercari), and that number is only predicted to increase in the coming years.
5. Texture Layering
Interior designers are predicting that textures will be big in 2022. Some say "anything furry, nubby, or cozy" will be popular, while others think fringe and decorative trim will take center stage.
Textures and layers are everywhere in fashion right now, so it's only natural that interior design would follow suit. Even walls are being textured with finishes like lime-washing and plaster paint. To achieve a layered look through furniture and accessories, choose a variety of materials such as stone, leather, wood, and metal, as well plus heavily textured fabrics like bouclé wool.
6. Moving the Office Out of the Home
At the start of the pandemic, when many people were suddenly working from home full-time for the first time, having a designated space to work was no longer a luxury but rather a necessity. Now that some office workers are heading back to their physical workplaces, though, the need for at-home offices may be decreasing.
If you had to work from home, chances are you've had to get creative with where you set up your office. For many people, that meant commandeering the guest bedroom, game room, or walk-in closet. Now, as the need for a home office becomes less prominent, these rooms will probably be converted back.
7. Natural Biophilic Design
Biophilic design is a trend for 2022 that involves using natural materials, colors, and plants to make your home feel more like the outdoors. Plant parents are going above and beyond a few pots on the windowsill by hanging plants from walls and ceilings.
This trend is based on what engages us as humans. Our ancestors relied on nature to provide vital necessities, and this connection has been passed down through generations. The colors, textures, and patterns of nature subconsciously comfort us because they are imprinted in our brains.
8. Local, Sustainable Furnishings
People are slowly becoming more aware of the environmental impact of their purchases, and as a result, sustainability is trending upwards. When shopping for furniture, potential customers consider not only the materials used but also how far the product has to travel before it reaches them. As many people look to reduce their carbon footprint at home, they buy locally sourced items or from regional suppliers.
Final Thoughts
It's clear that people are thinking more consciously about the interior design choices they make for their homes. While some of these trends (like biophilic design) may seem new, they're actually based on what humans have been drawn to for centuries. The resurgence of curved lines and interest in vintage pieces is proof that people always come back to their roots. As 2022 comes to a close, be prepared to see more natural materials and sustainable furniture options in homes across the globe. Which trend do you think will be most popular in your country?