One of the most important rooms in the house, the living room, is where you spend time with family, entertain guests and unwind after a long day. It can be difficult to enjoy your living room if it is out of date. Fortunately, you can modernize your space by following a few simple tips. Continue reading to find out more!
1. Stick With a Neutral Color Palette
Gone are the days of colorful walls and patterned carpets. These days, homeowners are opting for a more subdued look. That doesn't mean your living room has to be boring, though! Add interest by incorporating different textures and materials into your design. For example, pair a leather couch with a wool rug or use glass accents to add a touch of glamour.
You can also play with pops of color by adding accent pillows or accessories in bold hues. This way, you can easily switch up the look of your room by swapping out these pieces. No need to repaint or change the entire decor!
2. Get Rid of Bulky Furniture
Say goodbye to your huge coffee table and heavy entertainment center. In the modern living room, less is more. Furniture should be sleek and stylish but also functional. For example, consider investing in a nesting coffee table that can be pulled apart when you need extra surface area and pushed together when you don't. Or try using floating shelves instead of a traditional bookcase.
Not only will this free up floor space, but it also creates an illusion of higher ceilings—always a plus in small rooms. When shopping for new furniture, choose fine furniture pieces that are timeless yet unique. This will allow you to keep your living room looking modern for years to come.
3. Bring in Natural Light
Nothing makes a room feel more modern than plenty of natural light. If your living room is lacking in this department, there are a few things you can do to fix the problem. First, try hanging sheer curtains over your windows. This will let in sunlight while still providing privacy. You could also install skylights or add mirrors to help reflect light around the room.
When decorating, arrange furniture away from walls to make the most of natural light. And don't forget about artificial lighting! Choose fixtures with clean lines and a minimalist design for a contemporary touch.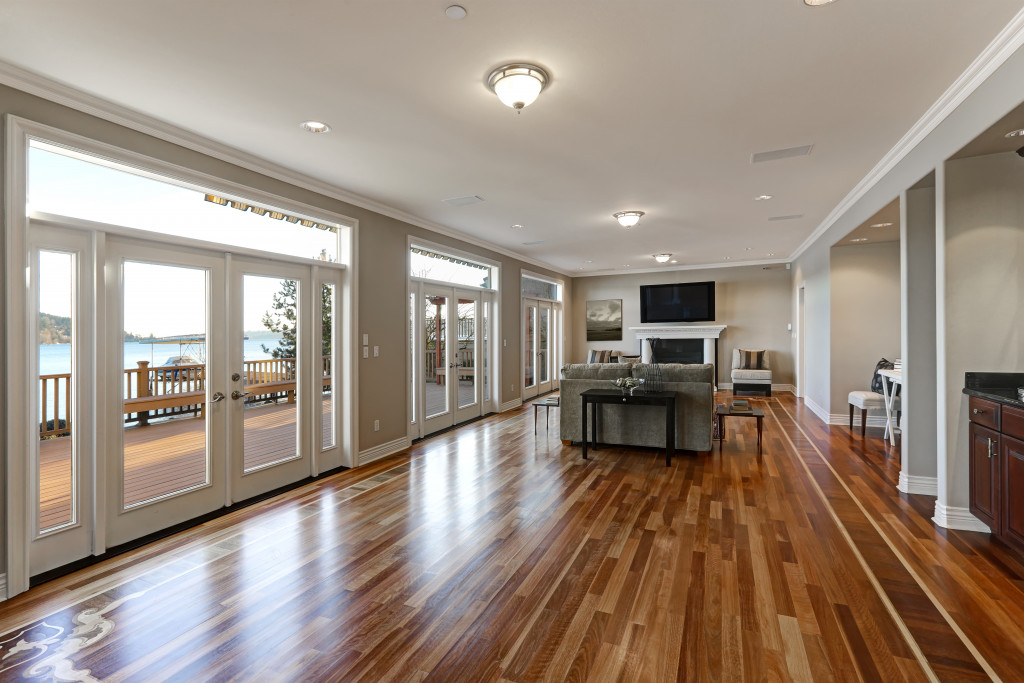 4. Incorporate Metallics
Adding metallic accents is easy to give any room a modern makeover—including the living room! Try using gold or silver lamps, end tables, or picture frames. You could also look for furniture with metal legs or hardware.
You can also add a touch of metallic shine by hanging a mirror or piece of abstract metal art on the wall. This is easy to bring in some visual interest without overwhelming the space. Just be careful not to go overboard—a bit of shimmer goes a long way!
5. Add Greenery
Plants are beautiful and help purify the air and boost your mood—making them the perfect addition to any living room! If you're not much of a gardener, don't worry; there are plenty of low-maintenance options out there (think succulents and cacti). Or, if you want to make a statement, try adding a large indoor tree!
Regardless of what type of plant you choose, just make sure it fits well into your overall design scheme—you don't want it sticking out like a sore thumb. You can also incorporate foliage into your decor by hanging dried flowers or using floral patterns in your pillows and rugs.
6. Consider Technology
In today's world, it's important to consider how technology fits into your living room design. For example, you may want to install a flat-screen TV or hide cords with sleek covers. You could also incorporate smart home features, like dimmable lights or a voice-activated speaker.
Just be careful not to let technology take over the room. Instead, use it as an accent, and be sure to balance it out with more natural elements, like cozy throw blankets or wooden accents. This will keep your living room modern yet still warm and inviting.
Designing a modern living room doesn't have to be difficult—just follow these simple tips! Start by sticking with a neutral color palette and getting rid of bulky furniture pieces. Then bring in plenty of natural light and incorporate some metallic accents for extra shine (literally!). Finally, update your lighting fixtures and add some greenery for instant refreshment! Just remember: less is more when it comes to modern design—so don't go overboard!