Making a statement doesn't have to be complicated or even serious. With the right piece, you can add a pop of personality to any outfit and show the world exactly who you are. And what's more fun than that? Here are some standout pieces that are sure to turn heads:
A Graphic Tee
Graphic tees are a great way to show your personality while supporting your favorite brands and causes. And with so many options available, it's easy to find the perfect shirt for any occasion. But how can you ensure that your graphic tee makes the right impression? Here are a few tips:
First, consider the message you want to send. Is it something positive and uplifting? Or is it edgy and rebellious? There's no right or wrong answer, but it's important to know the signal you're sending with your shirt. Second, pay attention to the quality of the shirt. A well-made graphic tee will last longer and look better than a cheaply made one. So take the time to find a shirt that's well-constructed from high-quality materials. Finally, don't be afraid to experiment. Graphic tees are all about self-expression, so have fun with it! Try out different styles and see which ones you like best.
By following these tips, you can be sure that your graphic tee will make the right impression – no matter where you wear it.
Oversized Earrings
Oversized earrings are a fun and festive way to dress up any outfit. But before you go out and buy the biggest pair you can find, there are a few things you should keep in mind.
First, consider the shape of your face. For example, oversized earrings may not be the best choice if you have a long face. Second, think about where you'll be wearing them. If you're planning on hitting the dance floor, make sure your earrings won't get in the way or get caught on anything. Finally, don't forget about the rest of your outfit. Oversized earrings can be overwhelming, so consider keeping the rest of your look simple.
With these guidelines in mind, go forth and rock those oversized earrings with style!
A Pop of Color
Sometimes, the simplest way to make a statement is with a pop of color. Whether it's a bold lipstick or a brightly colored handbag, adding just a hint of unexpected color can take any outfit to the next level.
When choosing your pop of color, consider your skin tone and the overall vibe you're trying to achieve. Are you going for a bold and daring look? Or a subtle and elegant one? Also, don't be afraid to mix and match colors – a brightly colored top paired with an equally bold statement necklace can make for a truly standout outfit.
A Statement Hat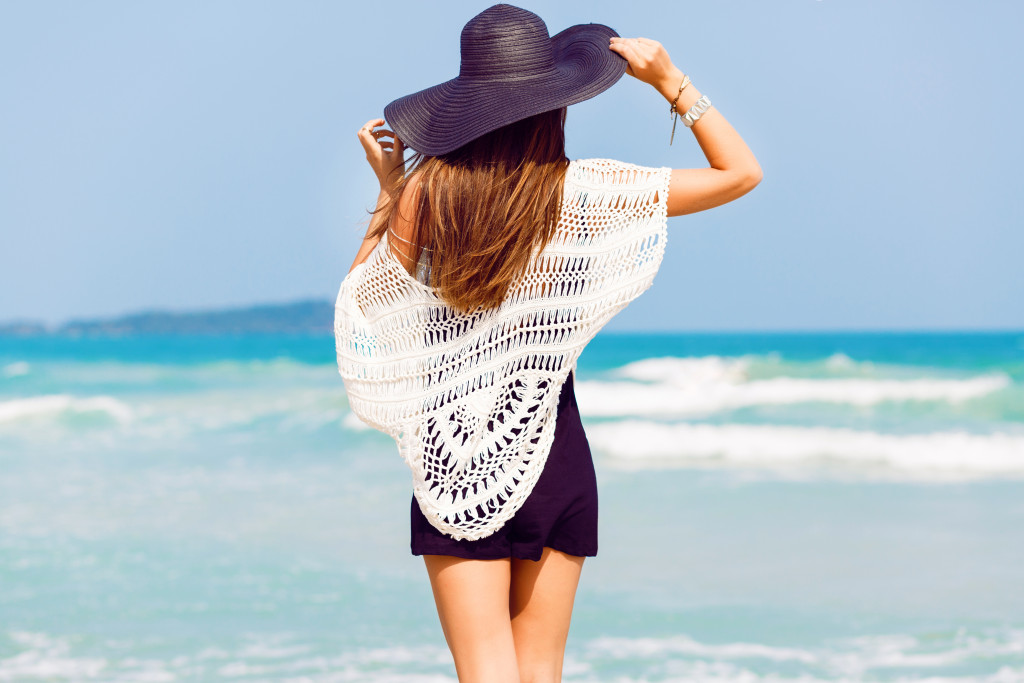 Hats are the perfect way to add a touch of personality to any outfit. But if you really want to make a statement, try out a bold and unique hat – think wide-brimmed floppy hats or cool beanies with patches and pins.
When choosing your statement hat, pay attention to fit. Make sure it isn't too tight or too loose on your head and that it complements the shape of your face. And remember – hats are all about experimenting and having fun with fashion. So go ahead and try out different styles until you find one that speaks to you!
Patterns and Prints
Patterns and prints are a fantastic way to show off your unique sense of style. But before you go wild, keeping a few things in mind is important.
First, consider the color palette. Too many patterns and prints can be overwhelming, so stick to a cohesive color scheme for a more polished look. Second, pay attention to the scale of the patterns. Mixing small and large prints can give your outfit visual interest, but be careful not to go overboard. Finally, balance out bold patterns with more neutral pieces – a printed top paired with solid black pants, for example.
With these guidelines in mind, have fun mixing and matching patterns and prints for a standout look.
A Diamond Necklace
A designer diamond necklace is a timeless and classic way to add some sparkle to any outfit. But when it comes to making a statement with your diamonds, the key is all in the details.
First, consider the size of the diamonds. Choose larger stones for a bolder look or smaller ones for a more subtle touch of sparkle. Next, think about the setting of the diamonds. A unique and intricate setting can add visual interest to your necklace. And finally, choose a length that flatters your neckline – longer strands for high necklines and shorter ones for lower necklines.
No matter how you choose to wear it, a diamond necklace is sure to elevate any outfit.
Ready to make a statement? With these key pieces, you'll be sure to turn heads wherever you go! Whether you're looking to add a pop of color or make a bold statement, there's something here for everyone. So go ahead and express yourself—after all, fashion is about having fun!