Published: June 5, 2010 10:19 PM EST
By: Isaac Davis Jr., MBA
(Juniorscave.com)

New Music Spotlight
June 2010 Edition


Strange Lights

Music Now Artist/Band Spotlight Weekly Series





Welcome to the wonderful world of the indie band Strange Lights. The two member band creates wonderful music together that fans will enjoy listening to when they hear Strange Lights for the first time. Our Webzine recently had the pleasure to speak to the band members about their music and discovered many cool things about them. Here is what developed from our online conversation.

Isaac: I just listened to one of your songs from your CD. What was the Inspiration for making your new album?

Strange Lights: Whatever is happening now as well as the various things we grew up with makes for some serious inspiration. Happiness, sadness, life's many unique qualities, angst, love, disappointment, alienation both personal and in society, crossed wires, belief in life being okay, let's see, what else…………? Beside this, writing new songs and bringing them to completion is a great inspiration in its own right. When there's enough material, crafting an album is the next, natural step.

Isaac: Who were your influences?

Strange Lights: Deb's influences range from classical, (she played flute with school orchestras), to pop/folk, (Jim Croce, Simon & Garfunkel), Black pop//R&B, (Jackson 5, Diana Ross), Johnny Cash, Beatles, Television, Patti Smith, Pink Floyd, Nirvana, The Shins…& Edgar Allen Poe's poetry.

Lonny would agree and add most of the great rock from the late sixties and early 70's, Jimi Hendrix, Led Zepplin, Jefferson Airplane etc, a few of the eighties new wave bands and some Flaming Lips, and Dandy Warhols.

Isaac: What do you consider to have been the highlight(s) and lowpoint(s) of your career to date?

Strange Lights: Our highlights are; creating great music, and, connecting with an audience, and optimally both of these at the same time! Creating something that seems to be alive in its own right is sometimes its own reward.

Low points are times when the creation process just isn't happening, and has less to do with external validation. Having to keep a day job has been a low point as well and the fact that we are only still musicians after this many years because the obsession will not desist.

Isaac: Brief history about your background plus the style of music you play.

Strange Lights: Deb comes from the middle class Bronx and lived in and loved Manhattan, played in Pop and Punk bands in places like Max's Kansas City, CBGB's, and then headed for the wide open spaces of New Mexico and Colorado. "I find that I can "hear myself", (as an artist), a bit better in the quiet mountain town that I live in, and I like not having to fear for my life…( my only sibling, a younger brother, was killed in a robbery in NYC at the age of 22)".

The style of music we play is psychedelic/folk/goth/pop. It is an original sound that I am so happy we have been gifted with, as I think the only thing we really have to "give" is something new… if it is not new, and then it's already been "given".

Lonny is a native of Colorado mountain towns. He lived in Boulder for quite a while and then landed in Crestone. The style of music Lonny plays is based on pop, psychedelic influences and dotted with little bits of subtle sub-rhythms almost everywhere trying to leave something for those who actually are paying attention.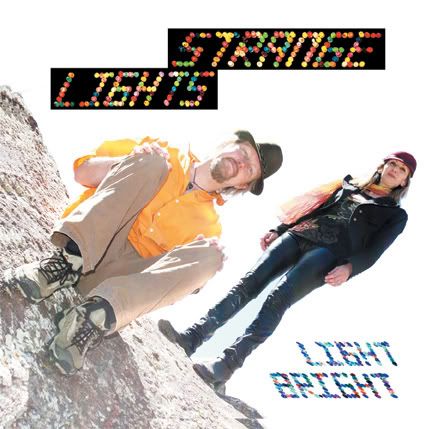 Strange Lights
Isaac: How easy is it to gets gigs for you as an artist? What is the live music scene like in your area?

Strange Lights: It is generally easy to get cattle call gigs at bars that are about a 4 hour drive from where we live, pay little to nothing, and have sparse audiences…(!), and the "live music" scene in our area is mostly populated by gray pony-tailed 70's/80's cover bands. We used to like "Brown-Eyed Girl", so it's been a real tragedy though we still manage a few festival gig opportunities in a year. The Internet has really been a savior for us to get our music out in a mutually rewarding fashion with as many as 25,000+ songs downloaded in a month. Gig opportunities that are worthwhile are looking better slowly but surely however as our press are becoming more significant. Learning to find a niche in the modern music scene is a real brain tweaker. Lately, we are more and more committed to doing only gigs that we feel good about, for example one that pays decently or is a clear benefit to a good cause.

Isaac: What do you think of the state of Indie music at the moment? Do you listen to radio much at all? Has the Internet helped music grow or hindered it in your opinion?

Strange Lights: Indie music is so diverse, that it's "state" is maybe a bit of an oxymoron …the way different influences are able to be recombined is exciting, but there is so much music out there that it gets random at times, as well as repetitive at others. It seems tougher to grab "traction" in the public without corporate power behind you…. which is why if McDonald's calls… This is in direct contradiction to the ideals we grew up with but still possibly the only chance a small band has these days. We do listen to radio. We have given thought to the fact that radio is dead but it still seems to play its part and is really no more repetitive than satellite radio. We also listen to a lot of music on albums.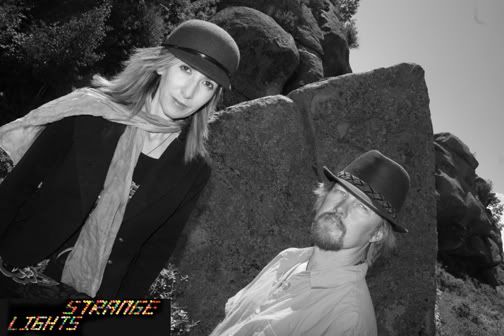 Strange Lights
The Internet has definitely helped music grow artistically, but without significant monetary benefit to each artist individually, the www is a big place indeed, with space for all kinds of stuff for better and worse.

Isaac: If you could create a fantasy band - what would be the line-up and why?

Strange Lights: Tom Verlaine, John Mercer, the Dandy Warhol's keyboardist, and our own drummer Robert Edsel. Great melodic songs are our sweet spot!

Isaac: What CD's do you currently have available and where can they be purchased from?

Strange Lights: Our newest CD is "Light Bright", and is available on iTunes and CD Baby, as well as our 2003 album, (recorded in Lonny's laundry room), "Kaleidoscope", and our 2007 DVD "Strange Matters".

We do have A LOT of free music and videos on our website http://www.strangelights.net



Strange Lights
Isaac: Where can fans access your music, videos, blogs, and anything else about you online?

Strange Lights: Our own website is strangelights.net

It basically branches out into the whole Strange Lights universe, which at this point goes on almost forever, Facebook, Twitter, Reverbnation, MySpace, blogs, videos, soundclick, CD's and merchandise, lots of free downloads, news articles, press kits, photos, and much, much more. We try to keep a little something different on each of the places we have a web presence to keep it exciting.

Isaac: Message to your fans?

Strange Lights: We love you more…really! Seriously, we always strive to give something worth the time given to listen, and we hope it helps you …as it does us. Any artist worth their salt is giving something worthwhile to the people who are potentially getting off their couches to go to a show or buy a CD/download or give us your attention in the sea of music. Really we don't have the appropriate words to thank you.




Strange Lights' Official Website
http://www.strangelights.net



Junior?s Cave is now
accepting submissions
from Sonicbids artists!
Junior?s Cave is now accepting submissions
from Sonicbids artists for general review and feature consideration.
This is a fabulous gig for any artist looking to gain
some exposure in a modern, inventive publication
with an established client base.
http://sonicbids.com/juniorscave



Junior's Cave Online Magazine/JC Internet Radio Staff Team,

PO BOX 2494
Brunswick, Georgia 31521
toll free number 866-554-3997
office number 678-826-0850
fax: 912-265-8093
http://www.jcinternetradio.com
http://www.juniorscave.com
http://www.friendsmix.net
http://www.live365.com/profiles/juniorscave
http://www.live365.com/stations/juniorscave










Junior's Cave Search




View My Stats